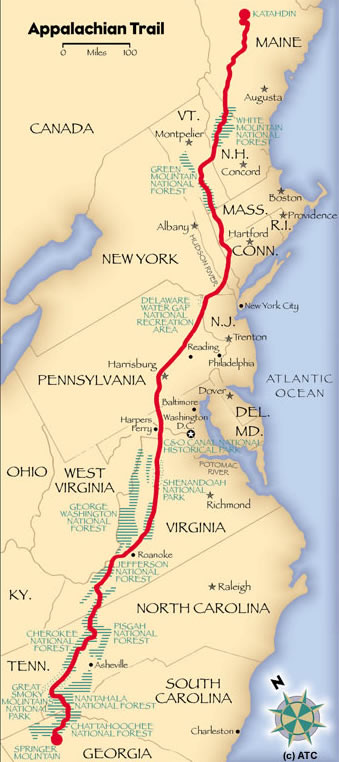 Appalachian National Scenic Trail
Green Tunnel from Kevin Gallagher on Vimeo.
The Appalachian National Scenic Trail, generally known as the Appalachian Trail or simply the A.T., is a marked hiking trail in the eastern United States extending between Springer Mountain in Georgia and Mount Katahdin in Maine. The precise length of the trail changes over time as trails are modified or added. The total length is approximately 2,200 miles (3,500 km)[a]. The trail passes through the states of Georgia, North Carolina, Tennessee, Virginia, West Virginia, Maryland, Pennsylvania, New Jersey, New York, Connecticut, Massachusetts, Vermont, New Hampshire, and Maine. The path is maintained by 30 trail clubs and multiple partnerships, and managed by the National Park Service and the nonprofit Appalachian Trail Conservancy. The majority of the trail is in wilderness, although some portions traverse towns, roads and cross rivers.
The Appalachian Trail is famous for its many hikers, some of whom, called thru-hikers, attempt to hike it in its entirety in a single season. Many books, memoirs, web sites and fan organizations are dedicated to this pursuit.
An unofficial extension known as the International Appalachian Trail continues north into Canada and to the end of the range, where it enters the Atlantic Ocean.
The Appalachian Trail, the Continental Divide Trail, and the Pacific Crest Trail form what is known as the Triple Crown of long distance hiking in the United States.